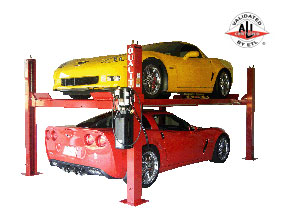 Q4P07 Standard $2,79500
• 7,000 lbs capcity
• Overall width 100"
• Underneath runway clearance 63"
• Runway length 150"
• Runway width 20"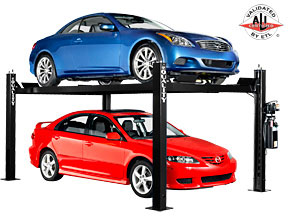 Q4P09H Standard $3,225
• 9,000 lbs capcity
• Overall width 112"
• Underneath runway clearance 68"
• Runway length 164"
• Runway width 20"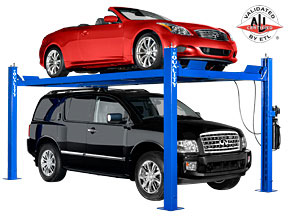 Q4P09X Extended Length & Height $3,425
• Overall width 112"
• Underneath runway clearance 80"
• Runway length 188"
• Runway width 20"

4 post lifts
available in
these three
colors!


QRJ04H $869.00
4,500 lb Capacity Rolling Jack
• Hand hydraulic operation
• Rollers for easy movement along rails
• Professional grade wheels
free service jack

Q4P09SP $1,095.00 Storage
Platform Set for Q4P09H
• Aluminum platform set (4).
• Lightweight platforms create additional storage space between runways.
• Creates a flat platform between runways. 1,000 lb capacity.

Q4P09ER $155.00
Extended 50"
Approach Ramps
• Excellent option for
low profile vehicles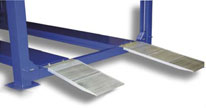 Q4P09PR no charge
Bolt-on Pivoting Ramps
• Perfect for service bay
applications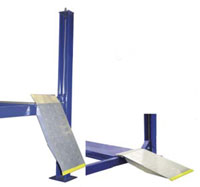 *Q4P09DT $179.00
Drip Tray Set for Q4P09H
• Set of 3 drip trays
• Formed sheet steel
• Provides protection for car below

*Q4P09CS $192.00
Caster Set for Q4P09
• Set of 4 casters and hardware
• Used to move lift w/o car loaded
• Remove car, install casters, move!
• Powder coat silver

*Q4P09JT $139.00
4,500 lb Capacity Jack Tray
• Jack platform for
between runways
• Cost effective wheels
free option for use with
bottle jacks (not included)

Professional
Installation
Available!

Commerical Grade: Professional installation
and service performed by our in house fully trained and insured service department.

*One year parts and
labor warranty.